Jan Struther 1901-1953
Jan Struther was the nom de plume of Joyce Anstruther, later Joyce Maxtone Graham/Joyce Placzek.
She was born on June 6th. 1901, youngest child of Henry (Harry) Torrens Anstruther M.P. and (later Dame) Eva Anstruther (née Hanbury-Tracy). She died in 1953. Her most renowned work is the novel, Mrs. Miniver, which chronicles the life of a British middle class family during World War II.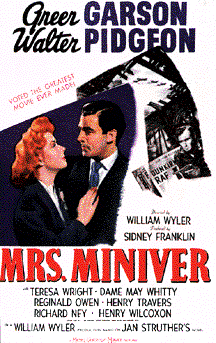 The book was made into a film (see below) and starred Walter Pidgeon and Greer Garson. The film won 6 Hollywood Oscars in 1942, including the award for Best Picture.
Starting at the age of 16, Jan Struther wrote articles, poems, and short stories for periodicals, most notably, "Punch". Her volumes of poetry include Betsinda Dances and Other Poems, 1931; Sycamore Square and Other Verses, 1932 (illustrated by Ernest Shepard); Try Anything Twice, 1938; and The Glass Blower, 1941.
Jan Struther - A Bibliography
Jan Struther - Dative & Ablative
Henry Torrens Anstruther - by Joyce Anstruther - a "vignette".
The Story of Reckless Mike and Ruthless John - from - "A Modern Struwwelpeter" - by Jan Struther and illustrated by Ernest Shepard, 1936
She wrote the words for several hymns - hymns that are still in use today. This, perhaps, is the best known and most popular of those works.
During the Second World War, Jan Struther lived in New York City with her children. There she was a popular lecturer. In 1948 she married A. K. Placzek. She died from cancer on July 20th., 1953 in New York.
A Biography of Jan Struther, titled The Real Mrs. Miniver, written by Ysenda Maxtone Graham was published in November 2001. For further details contact the publisher - click on JM logo.